Article written by Anna Kachikyan-Fashion Legacy IX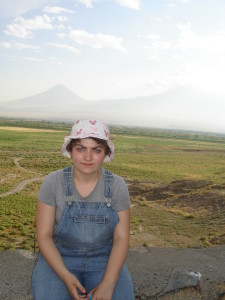 The first time I heard about Nataline Sarkisyan, I was a young journalist just starting out in the world of broadcast news. It was 2007 and I was a production assistant at KABC news in Glendale. I remember ABC 7 covering the story but I also remember how I felt as a young Armenian who was just getting her start in media. I was dealing with my inner struggles of whether I had the upper hand in the story because I was Armenian or the mere fact that I had inside access to one of the top news organizations in the country. I also remember feeling sad and trying to learn how to cope with my emotions to a deeply sad and unfortunate situation.
Since Nataline's death 9 years ago, I have moved on from KABC to TMZ where I worked alongside my coworker to build TMZ's extensive media library. I appeared on the syndicated TMZ on TV show since its start. During my time at TMZ, I grew to learn how to make my mark as an Armenian woman in media. Meanwhile, during those 9 years, Nataline's mother Hilda and her family have continued fighting for health care reform in our country.
I am more confident than ever to use my platform and engage my audience regarding topics, which affect me. I want to open dialogue with my followers about causes I believe in because if it's real to me than my message will in return be genuine—and that's who the new me longs to be. During one of my most compelling Periscope chats was with the very well spoken Razmig Sarkissian on the conflict between Artsakh and Azerbaijan. This is where Nataline's mother, Hilda first saw me and reached out to ask me to be a part of Nataline's Annual Fashion Legacy Show this year.
At first, I have to admit, I was hesitant. I didn't think I would be strong enough to uphold Hilda's standards because of my emotions. Hilda and I met one afternoon and from the moment I met her she put me at ease with her strong energy. Nataline's Fashion Legacy is no sad event. This is a day where we come together and continue fighting for our loved ones deserving right of proper health care in our country, while remembering Nataline and seeing her sketches come to life.
Many people have come before me and have been a part of Nataline's legacy in the past 9 years. This year, I am proud to join her legacy in hosting the fashion show.
Please join me on July 9th at the Mercedes-Benz of Calabasas. Purchase your tickets at the link below…
http://www.itsmyseat.com/events/453552.html
With Love,
Anna Kachikyan
For a briefing on Nataline Sarkisyan's story, read more here https://en.wikipedia.org/wiki/Death_of_Nataline_Sarkisyan